Banding Technology


What is banding?

Banding is a packaging technique that is being adopted worldwide in a wide range of industries. Products are belted using Bandall equipment that is attached harmlessly with a paper or plastic film. In addition, as an option effectively marking tape can be printed to display graphic advertising and information - this is particularly popular in the food industry. Almost any product can be improved with a band to improve brand recognition and increase the shelf selection.
Bandall is a great new package and clamshell banding solution fresh from Europe and allows so many advantages:
Outstanding grocery shelf appeal.
No adhesives, shrink wrapping, labels, cardboard, excess materials.
Perfect for all types of food products in clamshells, thermoformed trays, vacuum formed trays for ready to eat meals, fresh fruit, veggies, sliced meats, hot dogs and on and on.
_____________________________________________________________________________________________
Bandall's Machines are Categorized into 4 Types
Bandall banding machines are recognized worldwide as the most technically advanced banding machines available; featuring a patented system for transporting the banding material around the arch, delivering application accuracy.
All Bandall machines work with a choice of band widths: 28mm, 40mm, 48mm, 60mm, 75mm and 100mm. Mobile, semi-automatic banding units, as well as custom made fully integrated in line solutions are available. We work together with you to determine full specifications and requirements.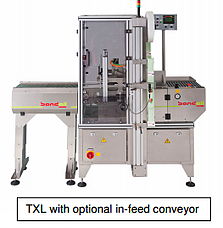 TXL Series, Fully Automated Banding

This machine is ideal for applications that require quick and accurate transportation and banding of things like boxes and trays. The machine continues a speedy conveyor belt that pushes items through the banding process. Some applications typically used with this machine include tamper evident packaging for:
Frozen Products
Ready Meals
Electronics
Automotive Parts
The TXL Series is designed especially for products that have a flat top and bottom surface. It's unique because it can be fitted with a choice of printers. This means that the machine can print in multiple positions on the band.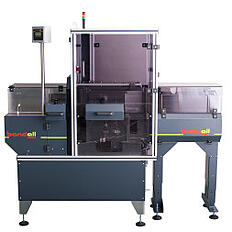 Bandall TRL Series
The TRL Series produces banding and bundling in a straight delivery and removal line. People working on the line of the machine make sure that the items being banded are place in the head of the machine accurately. This Series can be integrated with various types of delivery and removal systems. With extreme speed and accuracy, there's a quick turnaround time for your products.

Bandall TRC Series
This series is a completely automatic Bandall machine. It's unique in the fact that it rotates the items being banded by 90 degrees. The product can then be packed and banded without any worry of damage.
Bandall TRB Series

Motorized conveyor belts are used in this series to lower or higher the friction depending on the type of product that's being banded. One of the most common application of this Series is for trays because it makes stacking incredibly easy. It's also a cost-friendly banding option to use because it eliminates the need for taping, gluing and sealing.