Reducing the Risk of Recalls And Costly Damage to the Business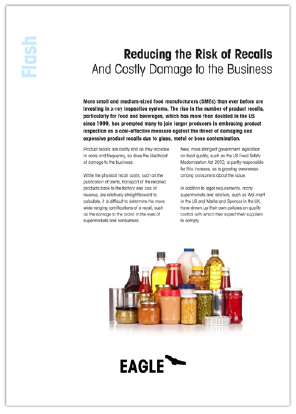 More small and medium-sized food manufacturers (SMEs) than ever before are investing in x-ray inspection systems. The rise in the number of product recalls, particularly for food and beverages, which has more than doubled in the US since 1999, has prompted many to join larger producers in embracing product inspection as a cost-effective measure against the threat of damaging and expensive product recalls due to glass, metal or bone contamination.
Download this whitepaper to learn:
How product recalls are costly and as they increase in scale and frequency, so does the likelihood of damage to the business.

How you can minimise the possibility of contaminated
or defective goods reaching the consumer.

How to prevent a future loss in revenue from recalled products.

How X-ray inspection technology is a solution for minimising the risk of product recalls.

Fill out the form on this page to download your free copy.