X-Ray Product Inspection Technology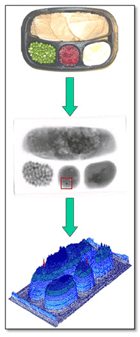 Utilizing x-ray inspection technology on your production line can eliminate costly recalls, public relations nightmares and save on high labor expenses that can cost thousands.
With x-ray inspection, there is never a reason to close down your inspection line:
Here are some examples of defects detectable using an X-Ray Inspection System:
Contamination (metallic and non-metallic)
Wrong weight (over or under)
Defective packaging
Misshapen/deformed product
Flavor lumps or agglomerates
Wrong product count in package
Wrong mix of product components (i.e., raisins in cereal)
Wrong product placement or positioning
Fill level
Etc.
Eagle's X-Ray inspection systems are fully functional 24 hours a day, 365 days a year. X-Ray inspection systems can inspect packaged products in the following areas: check-weighing, metal detection, foreign objects, size, shape and can automatically reject defective items from the product line.

SPC Charts, Production Reports, QA/QC Data
In addition, Eagle's X-Ray inspection systems will allow you to completely track your production using their Statistical Process Control (SPC) Data Management System.
The SPC database is built-in right into the proprietary image analysis software called Simultask 4.0.
The software will provide you with detailed information such as:
Timelines and Histograms
Comprehensive Reports Outlining Weights and Rejects
Rejected Images Storage for Easy Access and Review (Date and Time Stamp)
System Event Logging (i.e. Reason for Reject, Validation / Calibration, etc.)
Data Storage by Product, Customer, Batch/Runs, Shift, etc.
All of the information is stored locally by the system and can be easily accessed using the following methods:
Exported using a USB Jump Drive
Connected directly to your server via a built-in Ethernet network connection
Simply printed directly from the system
The system also comes with Remote Control Access providing you with complete control from anywhere in the world. This feature will also provide you with 24/7 remote support directly from Eagle.