What Are the Benefits of Fat Analysis to Meat Processors?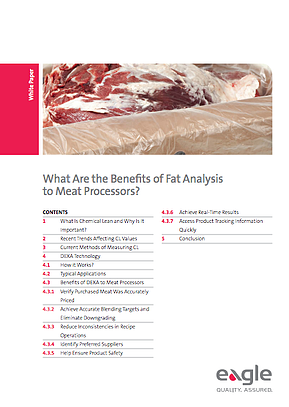 Fat analysis is a key piece of information for meat processors to know accurately. Growing pressure from the industry to report these numbers make it exceptionally important. This ebook outlines the perks of knowing your chemical lean number and how new technology, such as the DEXA x-ray, will help your efforts along. DEXA is quickly sweeping the meat processing industry and becoming the standard for proper fat analysis.

In this free 12-page guide, you will learn:
how DEXA technology has given real-life companies a great advantage in their meat's fat management

the inadequacies of current x-ray methods

why it's important for manufacturers of raw meat to know their fat analysis
Don't be left behind. Download this free ebook to keep up with the current trends in the meat processing industry.