Container and package decoration is one of the most important elements of brand and product identification. Labelling applications can include consumer information, ingredient and nutritional details and also perform tamper evidence functions.
PRESSURE SENSITIVE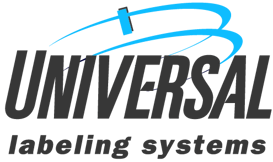 Paper of film substrates with an adhesive backing are printed with
required information, die cut to the desired shape and size on continuous backer material, and then wound into a reel on a 3" core. Label application can be accomplished by peel off/wipe on, vacuum plate tamping or air blast technology with very high position accuracy on the container.
For more information on pressure sensitive options Plan Automation provides, please visit our partner site Universal.
WET GLUE
This labelling method uses plain printed paper stock cut to finished size and loaded into a magazine on the label applicator. An individual label is stripped from the magazine where a cold adhesive glue is applied to the non-printed side of the label stock. The prepared label is then controlled by a vacuum plate transfer mechanism and applied to the container. This technology is generally used on round containers in the beverage and food industries.
SHRINK SLEEVE
Using laminated film substrate, the material is printed with the required information and graphics in a continuous web. The web is then wound into a reel on a 3" core. A vertical application system indexes one impression at a time over a forming mandrel and cut using rotary knives as it is applied over the circumference of the container. The container then passes through a heat source tunnel were the material shrinks over the contours of the container. This labelling technology can be used as a full body application or just over the closure of the container to act as a tamper evidence feature.
For more information on shrink sleeve options Plan Automation provides, please visit our partner sites AFM and Axon.
PRINT & APPLY
Generally used for identification of finished goods cases, this labelling technology uses a thermal transfer printer to generate information on plain paper, die-cut label stock. Once the correct information is printed on the label, the label is transferred to a vacuum plate where it is either wiped onto the case or a pneumatic manipulator arm applies it to the case.