EAGLE PI SOARS TO NEW HEIGHTS!

X-ray Inspection Expert Accelerates Global Expansion
Tampa, Florida, February 27, 2013
2012 was a year of robust growth for global x-ray inspection and fat analysis technology expert Eagle Product Inspection (Eagle) during which the company expanded its market presence with a new Brazilian distributor, strengthened its senior management team and extended its product development capabilities. The company has now further widened its global reach, resources and capabilities to support food and beverage manufacturers in meeting the growing demand for food safety and toughening compliance standards. As part of this strategy, Eagle has enhanced its research and development (R&D) capabilities, developed new application centers and expanded its expert teams in the US, Latin America, Germany and China. These activities will enable the company to design new product inspection technologies, locally support existing and new customers and continue to educate the market on the latest innovations in contaminant detection and fat analysis.
To support global food and beverage manufacturers locally, Eagle combines company experts specializing in x-ray inspection and fat analysis technology and a wide network of distributors, with presence in Europe, North America, Latin America, Africa and Asia. The company has extended its reach to China with a new sales and service presence to best serve the country's fast-developing food manufacturing industry. Additions to its existing sales teams in the US and service capabilities in Latin America will ensure the company continues to support existing and new customers in 2013 and beyond.
Eagle's new state-of-the-art R&D facility near Wiesbaden and Frankfurt in Germany, allows for the development and advancement of its industry leading range of x-ray technologies. Newly appointed compliance experts and specialist engineers are working closely with customers at this facility to design inspection systems that deliver unparalleled levels of contaminant detection and chemical lean values with the company's advanced dual energy X-Ray technology.
The company has also designed new application and engineering centers in Tampa, Florida (US) and in Royston, Hertfordshire (UK), where customers receive firsthand training on Eagle's products. This enables manufacturers to discover and understand the benefits of x-ray and fat analysis technology, and offers an environment for equipment testing customized to their production needs. Customers visiting
Eagle's application centers can see Eagle machines in action, test their products and work with engineers and x-ray experts to identify the appropriate technology for their specific application. Eagle engineers and new product development teams will use the centers as a hub for the continued production of innovative x-ray inspection solutions to address specific challenges seen within the food and beverage market. These centers offer local support for manufacturers, while fueling the advancement of Eagle technology at a global level.
"Advanced x-ray inspection technology allows manufacturers across all regions to globally comply with food safety standards, ensuring they become key players in the rapidly changing food manufacturing arena. Eagle's enhanced R&D capabilities and new application centers enable us to continue to develop technologies to meet industry needs in close collaboration with our customers," says Simon King, Global Head Sales, Service and Marketing, Eagle. "At the same time, as we continue to grow and innovate in 2013 our extended global reach and service capabilities will ensure customers around the world have access to the latest technologies being developed and the support to implement these in their production lines."
About Eagle Product Inspection
The Eagle Product Inspection line of x-ray inspection systems evaluates in process and finished products for contaminants such as metal, glass, stone and bone while also having the ability to check mass, evaluate compartmentalized fill level, and analyze fat content.
With its headquarters in Tampa, Florida, and local offices across the globe, Eagle Product Inspection machines meet today's Hazard Analysis & Critical Control Points (HACCP) certification requirements to ensure that food and beverage manufacturers and their customers in turn are well protected. Visit www.eaglepi.com for more information.
_______________________________________________________________________________________________________
JP PERREAULT AWARDED THE COVETED "ROCK THROWER" AWARD FROM WEXXAR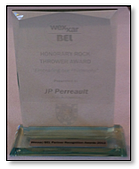 At the annual WEXXAR social event held during this year's show, JP Perreault, Managing Partner of Plan Automation, was announced as the winner of the prestigious "Rock Thrower" awarded for his professional and persistent promotion of the WEXXAR/BEL/IPAK line of case/tray erectors and sealing equipment. Plan Automation as a master distributor for Wexxar, has become their largest volume producer in North America for these products in 2012.
_______________________________________________________________________________________________________
PLAN AUTOMATION APPOINTED NATIONAL DISTRIBUTOR FOR SHANKLIN

Another market leader in packaging automation has selected Plan Automation as their national distributor for Canada. Shanklin a division of Sealed Air Corporation, and the leader in total enclosure shrink-wrap systems has partnered with Plan Automation for development of the Canadian market. Plan will continue the tradition of providing comprehensive sales, service and parts support for this category leading manufacturer.
_______________________________________________________________________________________________________