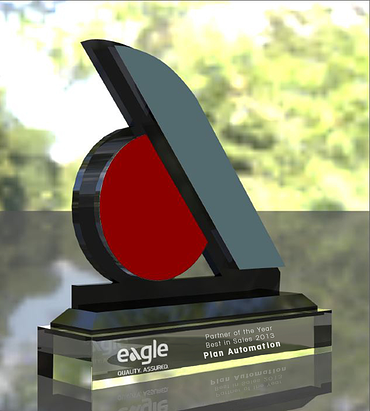 Industry-leading automation experts and distributors, PLAN Automation, recently took home Eagle PI's "Best Global Partner" award for 2013, an award granted to Eagle's best in sales. PLAN Automation is one of Canada's most effective and successful automated technology providers, and this award solidifies their status as a leading automation resource.
Eagle PI, a product inspection technology manufacturer based in Tampa, Florida, began in 1998 as Smiths Detection. Smiths Detection was sold in 2011 and renamed 'Eagle PI,' after the original X-ray product line from Smiths Detection.
In the time since the sale, Eagle PI has grown to include application centers in Shanghai, China and Royston, Hertfordshire, UK. Additionally, Eagle PI has X-ray inspection presence in Latin America, Germany and Africa.
PLAN Automation, specializing in food safety inspection and packaging automation and has been Eagle PI's sole Canadian distributor since November 2011. Eagle PI General Manager Nick Marck stated the following about choosing PLAN Automation as Eagle's Canadian provider after the decision:
"With more than 30 years experience in advising and supplying high-end package automation and food safety inspection solutions, PLAN Automation is the ideal expert to provide superior levels of pre- and post-sales support so that our Canadian customers can continue to meet their food safety and productivity needs."
This is a significant recognition for PLAN Automation, as it proves their service excellence and commitment to providing the best automation results and resources possible. The Best Global Partner Award is the second award for PLAN Automation, the first being the "Rock Thrower" award from Wexxar-BEL. This award was presented to JP Perreault, President of PLAN Automation, in 2012 for consistent professionalism and promotions success with Wexxar-BEL.
What PLAN Automation Provides
Today, PLAN Automation serves not only as a regional distributor for Eagle PI, but also as a professional resource for manufacturers. PLAN Automation acts as a technical foundation for manufacturers using Eagle PI's brand of X-ray inspection machines to learn from, and provides these manufacturers the service support they need to more effectively use their inspection machines.
PLAN Automation provides support for all of Eagle Pi's X-ray inspection systems, from rigid container inspection systems and fat analysis systems to heavy-duty bulk inspection technology. When assisting manufacturers, PLAN Automation typically offers full risk analysis audits, advice on X-ray system selection and applications, and project management.
The X-ray inspection systems produced by Eagle PI serve a wide range of functions; functions that PLAN Automation recognizes, and helps manufacturers efficiently integrate X-ray technology in their production line. It's because of the quality support PLAN Automation provides to manufacturers that PLAN was selected as Eagle's Best in Sales, and received the Best Global Partner Award.
The applications of X-ray technology in production lines are vast, and the scope of product faults they can detect is even more impressive. Eagle PI's X-ray machines can notify manufacturers of:
All dense contaminants (including standard ferrous, non-ferrous)

Fill levels

Deformed products

Incorrect product placements

Incorrect Weights

Wrong product count

Product mass
With a growing presence in automation inspection technology, PLAN Automation also collaborates with the following companies to provide manufacturers the tools they need to safely and efficiently distribute their products:
Fortress Technology – Metal Detector

Eagle PI – X-Ray Analysis

Insort Chemical Imaging Technology – Bulk Product Inspection

Yamato Checkweighers

20/20 Hindsight Vision Systems (high speed cameras for failure analysis)
Among the technical services PLAN Automation provides new clients and manufacturers using partner equipment are factory setups, technical training, equipment repair, field service and field sales demonstrations, to name a few.
To learn more about PLAN Automation and Eagle PI's impressive track records of automated technology successes, or about what automated product inspection technology can do for you and your business, click here to contact PLAN Automation directly.