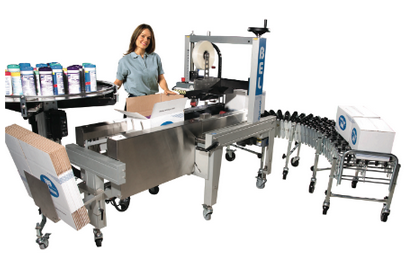 In recent decades, packaging automation has experienced a growth boom and become one of the most active automation technology industries. These machines package and prepare finished goods with an unparalleled and impressive efficiency, saving manufacturers thousands in the long-term and delivering quality packaging solutions with unfaltering reliability.
As they rapidly return on their initial investments, packaging automation machines have seen explosive growth across countless industries, with manufacturing professionals worldwide integrating top-load, side-load, bottom-load and drop case packaging in their production operations.
Full or Semi-Automatic Automation?
Choosing between fully automatic or semi-automatic packaging options essentially comes down to one thing: the size of your operation. Fully automatic automation is ideal for high-speed, high-volume production lines, with high product output demands.
For production lines with packaging speeds of less than 10 cases per minute, many manufacturers elect to complete packaging manually, as automation is an unjustified expense. However, semi-automatic automated packaging machines are available for just such applications, and typically pay off on their initial investments in as little as six months, while also eliminating labor costs and allowing workers to put their work focus elsewhere.
Side-Load Case Packing
Automated side-load case packaging solutions are most effective in high-volume applications, where they seamlessly perform packing operations at speeds of up to 75 cases per minute. Ideal for high-speed, non-stop production line environments, these powerful machines flow through the entire packaging motion in one continuous movement, perfect for wraparound casing jobs. Side-load packaging machines make these fluid packing motions possible by using single piece, die-cut wraparound casings and hot glue sealing.
While mechanical line shafts and customized engineering designs are still common among side-load case packing machines, more and more manufacturers are choosing to shift from mechanical to electrical motion control, for increased precision and repeat motion control. The popularity and spread of these options have made premium customization prices decrease in recent years.
Top-load Case Packing
Top-load case packaging machines are considered the standard automation technology for a number of industries, commonly dealing with rigid, strong products. Today's top-load automated packing solutions operate as a single-cell system, as opposed to the "module" format of older models. Separate modules for tray erection, product loading and case sealing are no longer necessary, as technological innovations have made top-load case packing machines more innovative than ever before.
These single-cell solutions perform all module machine duties in one condensed and fluid motion. It's because of this incredible efficiency, and trimming of resource consumption, that has made single-cell, top-load automation machines an industry standard in many production operations.
Bottom-Load Case Packing
Bottom-load case packaging models are most common in the dairy industry, where they are used to carefully process and package fragile dairy containers. While still a popular option for select industries, innovations in other packaging automation technologies have made bottom-load applications very selective.
Bottom-load case packaging options rely on certain preliminary preparations, which make them impractical for high-speed or high-volume applications; most bottom-load packaging machines can only perform at speeds of 15 cases per minute. The process or bottom-load packaging automation has been largely encompassed by the more modern, efficient options listed above.
Drop Case Packing
Automated drop case packaging machines are the traditional solutions for plastic, glass and composite container packaging. For decades, these models were the preferred method of packaging in many industries, until modernized top-load case packing technologies took over in recent years. Drop case packaging machines load these containers into pre-made RSC cases and trays, and are still very popular with beverage product production operations.
Drop case machines have fallen out of widespread use due to the lack of exact control working with gravity provides. Top-load case packing options provide far greater control for packaging, and are much more efficient and reliable than drop case packaging machines. However, drop case models are much more affordable than top-load case packing, despite being larger and just as effective. Most traditional drop case packing machines are mechanically operated.
But why? Why incorporate packaging automation technology in your production line? Simply, they save major production lines their two most valuable resources: time and money. As consumer demands rise, so must production outputs and volumes. Automation technologies have revolutionized the way manufacturers handle production packaging, and with automation's incredible cost savings and efficiency, have changed the way production experts face packing applications.
To learn more about the high performing, high-output automated packaging machines available today, and how they can streamline the packaging process and save your business money, contact us now!