BAGGING SOLUTIONS
Vertical Semi Automatic & Automatic

Rennco provides vertical semi automatic and automatic bagging solutions utilizing centerfolded packaging material. Rennco continuously incorporates the latest technology in designing and manufacturing its complete line of packaging machinery and systems. Whether using a standard sealer for a hand-loaded application or integrating a system to totally automate your packaging line, Rennco is committed to providing you with state of the art, quality equipment.
---
Vertical L Bar Sealer 501
Semi-Automatic Vertical Bagging Machine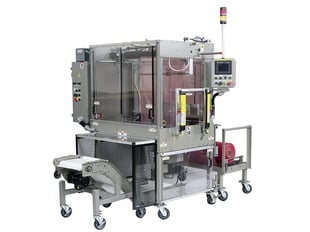 The Model 501 vertical L bar sealer is one of the largest models offered. This unit benefits customers with substantial film savings versus pre-made bags on a roll. Especially on cylindrical products and products that are longer than they are wide - products like stacks of cups, bolts of cloth, curtain rods, etc.
The 501 can incorporate a trim wind up for scrap removal or be configured in a "trimless" manner (thus scrap is left attached to the package versus being waste) along with a light screen cycling mechanism and perimeter interlocked guarding.
Optional features on the bagger include a trim break detection eye, hole punch for air release, pin perforator assembly along with a multitude of other features..
When you utilize the Model 501 series vertical L bar sealer, you receive a versatile packager to produce package sizes from 2" x 2" up to 24" x 65" (depending on series of machine).
---
Vertical L Bar Sealer 301
Semi-Automatic Vertical Bagging Machine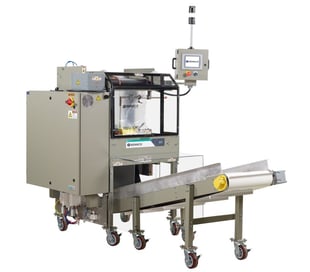 The Model 201PP packager is a small footprint size like the Model 201 however the "PP" pouch pack version has a different sealing arrangement. The horizontal seal bar is below the vertical seal allowing for ease in running multiple loose items. The items are fed to the packager via an infeed chute that can be hand loaded or automatically fed from an upstream system.
The Model 201PP packager is ideal for kit packaging of multiple items in up to an 8" x 10" package size.
Built for quality production, the Model 201PP provides optional features to enhance the speed and ability of the Model 201PP. Bucket infeed conveyors are available to automate the loading process for integration to upstream feeding equipment. A variety of optional features are available such as static eliminator, film registration eye, pin perforator assembly, trim break detection eye, just to name a few. If you need a quality machine built to meet customer demands, the 201 pouch pack is the perfect solution for your loose part projects.
---
Vertical L Bar Sealer 201 Pouch Pack
Semi-Automatic Vertical Bagging Machine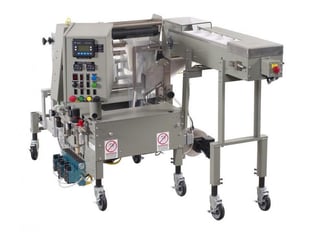 The Alpha HP Series offers several standard features including electromagnetic force compensation weighing technology and an air blast or pusher reject device. The Alpha HP-14 is ideal for accurately weighing packages and containers of up to 4 lbs, 12 inches in length, and 8 inches in width. They can operate at speeds of up to 300 packages per minute with an accuracy of +/- 0.100 grams.
Pouches, bags, and other unsupported or irregularly shaped packages pose a problem to conventional checkweighers that use chains or bands as a conveying medium. Not so to the Alpha HP-14, whose weigh table is rigidly constructed and whose weigh table belt, pulleys, and gearhead drive motor are all balanced to ensure accurate, reliable weighing of flexible packages. A continuous, programmable variable speed conveyor provides constant torque.
All weighing operations are controlled by the CW700 checkweighing systems, which is easy to integrate with date networks. The system features a user-friendly, graphical touch screen and a structured menu and selection designs for all operating functions. Up to 25 different set-ups can be entered for each size, weight, container, or package. There are no confusing programming steps when changing products, sizes, or weights. An exclusive automatic calibration feature determines all relevant operating parameters for optimum accuracy and checkweighing efficiency. For at-a-glance updates, the Alpha HP-14 features a large character weight display and easy-to-see tower lights.
---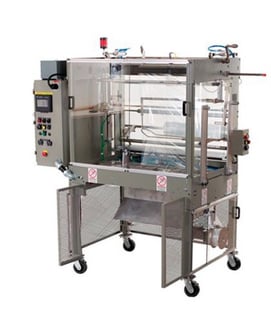 Bulk Packaging System
Automatic Vertical Bagging Machine
This bulk packaging system is an automatic vertical bagging unit that provides consistent and continuous production for many items that require bulk packaging including bottle caps, lottery pogs, puzzle pieces. The bulk packaging system is easily interfaced with scales, counters and/or feeders for automatic loading.
Multiple items are loaded into the web of film and once the correct weight or count is achieved, the bag is produced. With gating mechanisms, the upstream loading continues while the bag is being made; thus offering maximum output capacity.
---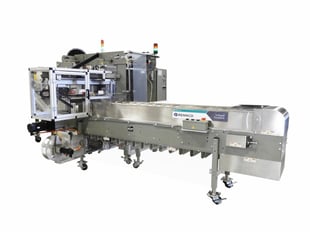 Automated Pocket Infeed System Model SPS Infeed System
Automatic Vertical Bagging Machine
Rennco's pocket infeed conveyor (SPS) can be interfaced with a Model 301 or Model 501 packager for a complete automated packaging system. Items are placed into the pockets of the conveyor where they are then advanced and transferred automatically via an overhead servo pusher mechanism into the web of packaging material. This infeed conveyor can be manually loaded or interfaced with upstream equipment depending on the packaging application.
---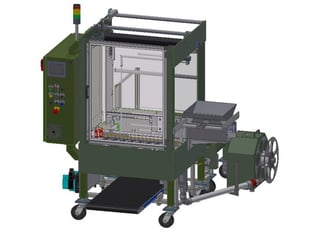 Automated Pusher Infeed Systems Integrated with Model 301 or Model 501
Automatic Vertical Bagging Machine
Rennco can provide a multitude of various infeed systems intergrated with our line of vertical packaging systems to offer a complete solution for your packaging application.
All infeed systems can be custom designed to meet the application requirements.
Systems have been designed with single load stations to multiple stations, infeed hoppers, overhead servo pushers, etc. Contact us to discuss your specific application.